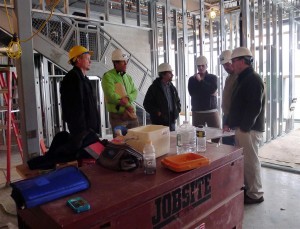 Historically, the fundamental relationships in a construction project have been between the Owner, the Architect, and the Contractor. However, the interests of these three parties are not always aligned.  Within this triumvirate, the Owner typically has the most at stake, and the least technical expertise.  The Owner may also lack the resources to provide the leadership necessary to ensure that the project goals are fulfilled.
Andrew Dey Consulting provides the leadership, knowledge and management necessary for the successful planning and implementation of construction projects.
Specific services typically include:
Clarifying project goals and analyzing project risks
Developing the project budget and monitoring costs
Generating and tracking the project schedule
Assisting with financing, including providing documentation required by Lenders
Team-building, including facilitating the hiring of the Architect and General Contractor or Construction Manager
Developing and finalizing contracts
Providing input for the design and specifications
Leading value-engineering efforts to maintain project quality while controlling costs
Ensuring that the project's green/sustainability/performance goals are met
Overseeing the permitting process
Participating in team meetings and site inspections
Reviewing monthly requisitions and change orders
Monitoring the project schedule and suggesting course corrections
Consulting on the myriad decisions required as unforeseen issues and opportunities arise during construction
Assisting with the punch list, building commissioning, project documentation and closeout
Facilitating the Owner's move-in and start-up
Not every project requires an Owner's Representative, or needs the full suite of potential services.  Andrew Dey Consulting handles each project on an individual basis, providing the appropriate level of service to optimize the value to the project.